A delicious feast is an essential prerequisite of any wedding. To make sure that your wedding menu is awesome, you will need to try the dishes beforehand. This will enable you to order only the best meals for your ceremony and make your guests happy. Actually there is a special part of preparation called wedding food tasting. Let's have a closer look at it!
What is wedding tasting?
Wedding food tasting is a small private event where the couple can taste the meals and drinks for their wedding feast. The wedding catering lets them sample all its menu. The couple decides which appetizers, main courses, drinks they would like to order for their big day.
Here are six reasons that should showcase the importance of tasting for you.
1. You need to make sure that the food is tasty
Even if you order meals in your favorite restaurant or hotel, they might taste different from what you expect. Here are a few potential reasons for it.
Another chef is responsible for catering tasting
The venue has changed its suppliers
The wedding tastings menu might be different from the everyday one
Probably, you don't have meals in this venue every day. When was the last time you tried its signature entree and its famous creme brulee? If that was a year ago, you might simply fail to remember their taste. Our perception of taste might change considerably over time, so it would be wise to double-check.
2. The food needs to look stunning
When you serve the same meal on a big plate and then in a small portion, it might look very different. It might have an amazing taste in both cases. But you want your wedding meals to be highly Instagrammable, right? Every single canape, sandwich and slice of the cake should look like small pieces of art.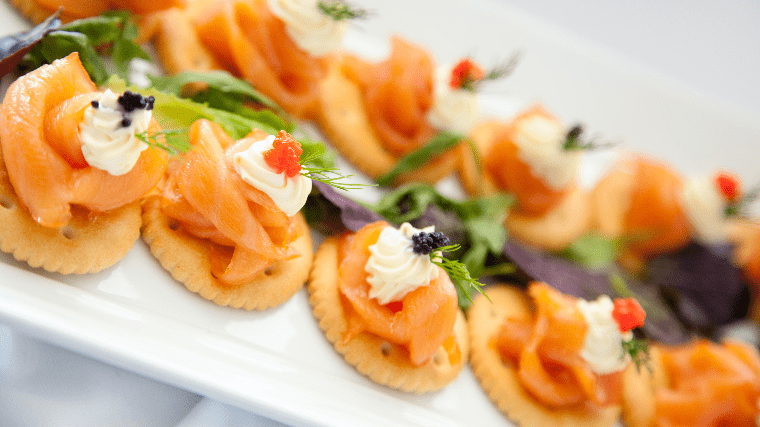 3. Narrow down your choice
You might want to order all its menu for your wedding tasting to satisfy your guests. But that might be too much. Order just enough to keep your guests happy. Try to avoid a situation when you need to throw away appetizing specialties. Plus, such an approach will help you to optimize your expenses.
4. Get to know the opinions of your friends and relatives
According to the wedding food tasting etiquette, you can bring your closest people with you to listen to their opinions. Learn more about their tastes and allergies before food tasting as your bridesmaid might be allergic to garlic and your best friend might be a fan of gin. Use this opportunity if you want to make your big day truly unforgettable for everyone.
5. Decide which drinks match the menu
During your food tasting for the wedding, you will be able to try not only meals but wines and cocktails too. The sommeliers and mixologists of the venue can share smart tips with you. But you should make final decisions only after you taste everything yourself.
6. Enjoy your food tasting!
You will have great fun and you will be able to savor your favorite meals once again. You and your partner can consider it as a themed romantic date.
What to expect from wedding food tasting?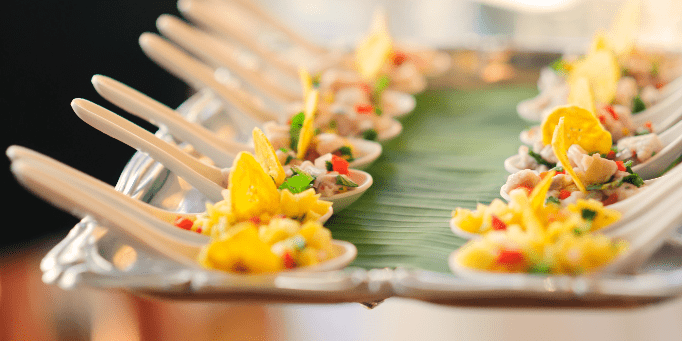 Catering tasting policies differ from one venue to another. Typically, you should be able to choose from two options.
You sign the contract with the service provider, you transfer funds to them — and you receive your tasting at no cost.
You need to pay the full price of the tasting in advance. Only if you like it, you will sign the contract with the tastings caterer and it will take care of your wedding.
For reasons that were described above, you might prefer the second option.
Book the date and time of the tasting and make sure you arrive hungry. Ask in advance how many meals you will need to taste and how large the portions will be. Even if the food seems excellent, try to control your appetite and eat just a small bite of any meal. Don't worry: by the end of the tasting, you'll be full anyway!
Ask the provider to give you printed materials or send the information to your email. You need to know the ingredients of all meals and the sizes of the portions as they will be served at your wedding.
If you or some of your guests have allergies, ask about alternative meals and ingredients during the tasting. Also, ask whether some meals are seasonal and might be unavailable by the date of your ceremony.
Wedding food tasting etiquette: 10 useful tips to prepare for tasting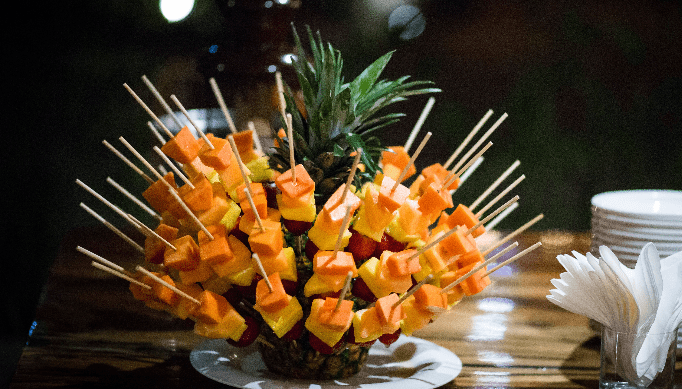 The tips below will enable you to make the most of your tasting.
1. Try to prepare yourself for the tasting
Think in advance which menu items seem the most appealing for you and make a list. During the tasting, make notes in your notebook — this will help you to remember whether the meals justified your expectations or not. Discuss with your partner at home which type of food you would like to focus on.
2. Stay focused on your meals
Don't let your partner or your caterer distract you from food! Don't be afraid to seem impolite and please take photos of all the meals and drinks.
Also, take notes. For such an occasion, you might want to bring a paper notebook and a couple of pens with you. It might be easier for you to put down your impressions in a well-structured format on paper. Typing text on your smartphone is not always convenient and it disconnects you from the surrounding people more than writing.
3. Avoid inviting too many people with you
According to the wedding tasting etiquette, you can invite friends and relatives with you. Yet it doesn't mean that you should ask your whole family to join! Many caterers offer tastings for 4 people. You and your partner might want to invite one person each. If you think you might want to bring more guests, discuss it with the caterer in advance.
4. Ask as many questions as you can
The caterer won't leave you alone during the tasting. At any moment, you should be able to ask the manager, the chef or the waiter about the menu. If you get exhaustive and comprehensive answers promptly, that's a good sign. It emphasizes the professionalism of the caterer and proves their reliability.
5. Listen to the caterer's advice
Relying on their extensive experience, the caterer can share many useful insights with you. For instance, you might rate a certain meal as "good but nothing out of the ordinary". The caterer might tell you that at 90% of wedding parties, the guests go crazy over this one. Also, they can tell you which meals you should eat as quickly as possible and which ones can remain tasty and good-looking for many hours.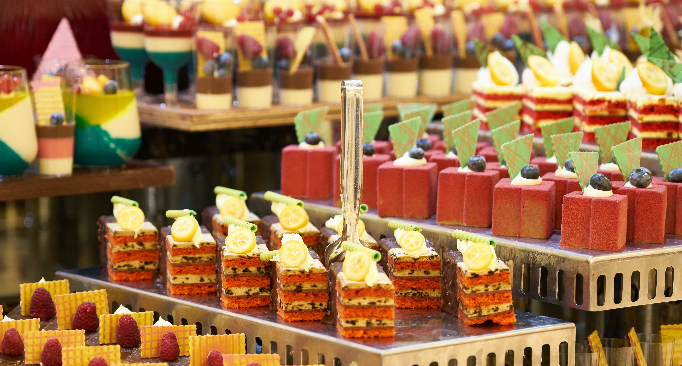 6. Try to be polite and reserved when criticizing meals
Caterers go to great lengths to create top-notch tasting menus. They try to stay head and shoulders above their rivals and they strive to produce a favorable impression on their clients. If you criticize them too severely, they might take it too close to heart. The chef, the waiters, the bartenders — all the team can be very sensitive to their clients' opinions. So please stick to the catering tasting etiquette.
7. Provide honest feedback
However, you shouldn't flatter the caterer just to please them. If you don't like a certain meal, try to explain why it doesn't seem appetizing to you. Maybe, your criticism will convince the caterer to improve their recipe. Or at least, they will understand why you don't want to order that very item that everyone else adores so much.
The trickiest part would be to tell the caterer that you didn't like their menu at all. In this case, the best way out would be to thank them for their hospitality and leave the venue without signing the contract. Tell the caterer that you need to think for a couple of days. Send them an email, apologize and thank them once again.
8. Avoid drinking too much
This might be a challenging task because you will need to try many drinks. If you get tipsy too quickly, you might postpone the drinks until the very end of your tasting. Otherwise, you can ask your partner to take care of the drinks tasting while you concentrate on food.
9. Tip the waiter who served you and personally thank the chef
Most likely, you will be enjoying the emotional atmosphere of your tasting just as much as the food. When you express your gratitude to the staff, that will become a nice cherry on top.
10. Don't plan anything after the tasting
Usually, the tasting lasts a couple of hours. But what if you are late? What if there is an emergency in the venue? What if you want to ask a lot of questions to the caterer? If possible, you should avoid making appointments for the rest of the day.
***
Take food tasting seriously and make sure you have enough time for it. Thanks to it, you will know what to expect from the feast on your big day. You will know that every single meal will be delicious and all the drinks will match it perfectly.